14 Amazing Outdoor Marketing Displays and Why They Work
Mar 4th
Advertising Campaigns
At the core of every physical marketing strategy are two important goals. First, it's important to get some attention with your display. Second, businesses need to target their goods' customers. This can be done in so many ways. Below are 15 displays from events, shops, booths at craft fairs or farmers markets, and other businesses that used both these approaches successfully.
This cutesy, home-run flower shop pulls every petal off its marketing stem. Not only does the bulky display make it impossible for pedestrians to notice (and consequently, walk around it), but they know their market. Daisies are a simple, cost effective flower, so they doctored up their bouquets by placing them in this interesting setting of old metal, interesting crates, and worn wood furniture. This also gives customers the chance to imagine ways to present their daisies in their own home or workplace. The charm and antique feel of this set up is sure to bolster sales.
This adorable garden-themed shop in Britain uses three elements to attract customers. First, the bright and cheery blue on the store front will catch the eye in any type of weather. They've also created an enchanting sitting area to spark the imagination of potential clients. The big window in the front of the store isn't hindered with large words. By keeping the window clear of obstacles, they've allowed customers to window shop, a wonderful way to let the wares speak for and sell themselves.
When businesses use craft fairs or farmers markets, they have a whole lot of distracting competition. There are really only two ways to achieve success at these types of venues: Either keeping it simple or being unavoidable. This booth chose the former. By streamlining displays and graphics and using the antique style tablecloth and shelving unit, Kaylala has emphasized the organic and traditional origins of her goods. This look will attract the kind of people looking for home remedy and all natural products.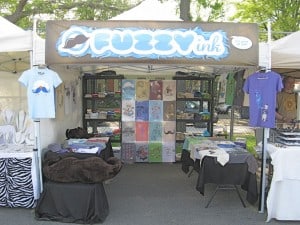 If the last booth chose to keep it simple, this booth is the opposite! The fun and bright banner and colorful designs of the t-shirts hanging as well as the print wall in the back will not be ignored! Imagine the impact that adding in some advertising flags would have! This is a great example of making your shop stand out.
Though this is an indoor event, the same principles apply to an outdoor display. If you have a specialized product or service pertaining to vehicles or other large items, the best way to advertise is to show it off! Or if you can't do that, offer an antique or unique version to entice customers into buying. This event also has a large, undeniable sign in the background with information on the quality and how long the business has been around. People want to know the reputation of a company before they invest, so this is a wonderful tactic to further your business.
Making a statement with a huge display is a great way to get attention and sell product. This oversized inflatable gorilla with a simple banner is not only going to make cars that drive by aware of what they offer, but will also make current customers ask questions about the product. Can you say ka-ching?
Similar to the first display in this article, this sophisticated shop allows its products to literally spill from its door. By arranging it in an inviting way, the owner is making his products not only approachable but also within reach of passing clients.
Several smart tactics are used to make this store the place to shop. They've used bright yellow and red for most of the display. These colors grab and hold attention of potential customers. In addition to the colors, they've also used large text to let customers know not only what they offer, but also the great prices. If that isn't enough, they've also used lighting to further brighten the colors and make words visible from a long way off.
It's not every day you see something that's broken in front of a store. This is a prime example of using unique qualities of your services to garner attention. In this case, a simple board that's been cracked in half by students of the karate school not only shows results of the classes, but promises future paying students that they can do it to.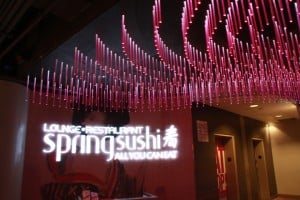 Neon and bright lights have been a regular part of marketing for bars and lounges since electricity was discovered. This unique lighting not only nods to that tradition, but it further sets a mood with its deep color and the wave-like shapes. Do you think customers will know the type of food served at this restaurant from a distance before they are able to read the sign?
Knowing your customers and their unique view of the world is important to any business marketing strategy. Though this picture is of a playground, it could just as easily be a funky and inviting store front. The bright colors and climbable fixtures would surely get the attention of children out shopping with their parents.
The mission of your company can be just as magnetic to customers as the products that back it up. This massive inflatable not only makes it obvious that there is an event happening, but also proclaims its purpose. This display is doing its job well.
Just as repetition is vital to memorization, it's a great way to grab client response. Though this is a storefront, the 3 flags leading up to the parking lot are not only well branded, but eye catching as well.
This business turns up the volume on sales with an extraordinarily creative storefront. There is no denying what is being sold in here!
As you can see, there are many approaches on how to best get the attention of customers and reel them in! What events or promotions do you have coming up? Give us a call or fill out this form to see how we can help you get the most bang for your advertising buck!
While you're here, sign up for our newsletter, we send out special offers and discounts every month, just to them! Subscribe today!
Get the On-Site Advertising Monthly Newsletter
Download our White Paper to find out how you can be the hero!