Inflatable Advertising Balloons
Turn more of the traffic driving by your location
into customers.
Imagine a 20 ft. inflatable advertising balloon sitting on top your location, with your message clearly visible to your target audience. Advertising balloons advertise your business in a BIG way.
They are seen from miles away, plus you can't beat the cost per impression of an advertising balloon!
Get a Free, No Obligation Quote
By submitting this form, I understand that any data I add to this form will not be shared. I agree to the terms stated in the privacy policy. And if I have questions, I can reach out to Air Ad Promotions at [email protected] anytime!
Why Use an Air Ad Promotions Advertising Balloon?
Experience
Air Ad Promotions has been in the inflatable advertising business since 1989. We've handled over 100,000 events. No job is too complicated!
Options to Rent or Buy
Whether you need it for a week, a month or want to purchase an advertising balloon, with Air Ad Promotions, you have options.
Set up and Installation
Installing a 20 ft. balloon is best left to the professionals. We use our own installers, not third party contractors, so you can count on reliable service with each and every installation.
Permit and City Ordinances
We maintain a database of tens of thousands of cities and their ordinance requirements. We've got you covered!
Durability
Our balloons are made to last – manufactured from polyvinyl chloride (PVC) with strategically placed tie downs.
Custom Colors & Banners
The balloon's color can be solid or designed to match your company's colors. Any standard fabric color is no extra cost. A custom banner is included in the balloon rental.
What our customers have to say about Air Ad Promotions

"It was a success for everyone, and your Tool Box [balloon] was front-and-center for the whole thing!
You'll definitely be hearing from us again."
John L., owner
Hardware store
"The POP looked great!! Not only did it look great it was very well secured and was visible from 2 miles away. The weather was SUPER windy that day and I was worried that [balloon] would not stay secured on the roof…. But he hung on through the entire event.
Overall, I would say that the POP succeeded in promoting the event and increasing their sales for that day."
Whitney B., Marketing & Community Events
National Restaurant Chain
"The large advertising balloon was largely impactful for driving traffic into our community! It was extremely visible and eye catching. The customer service that Air Ad offered was fantastic. We had minor issues throughout our rental with damage / theft and they were very quick to repair / replace! We will definitely be using them again."
Megan S., Marketing
Highland Homes, LLC
"We had a packed parking lot at 11am! Let me tell you, this store saw a record setting 46% sales increase that day. Our advertising balloon, pennants, Adversail flags and banners caught everyone's attention and we had so many fun comments about them. The outdoor décor definitely contributed to one of the highest ROI we've had in a long time."

Jessica C., Marketing
Long John Silvers
Get your message out in a BIG way!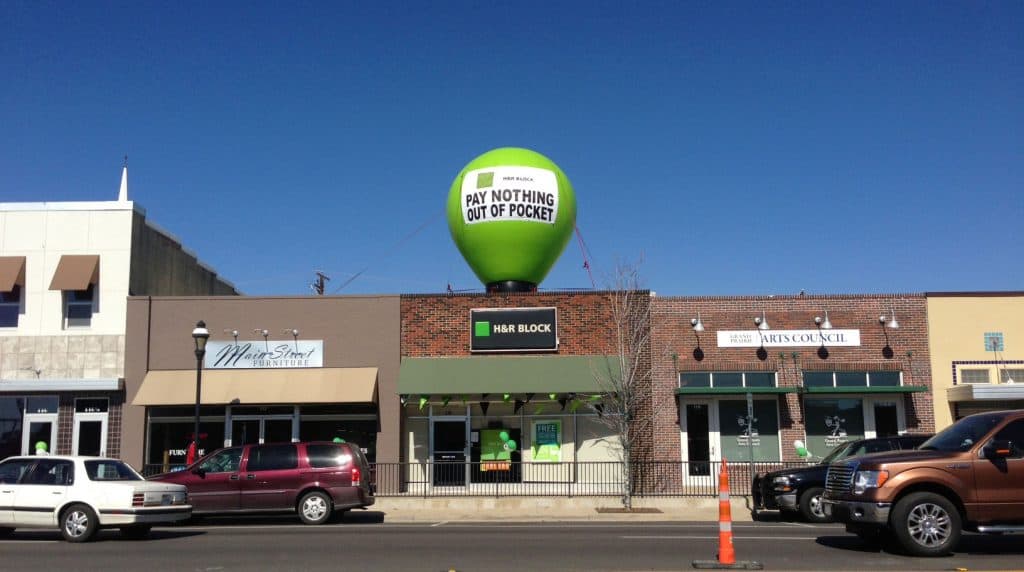 Get a Free, No Obligation Quote
By submitting this form, I understand that any data I add to this form will not be shared. I agree to the terms stated in the privacy policy. And if I have questions, I can reach out to Air Ad Promotions at [email protected] anytime!