Category: Advertising Tips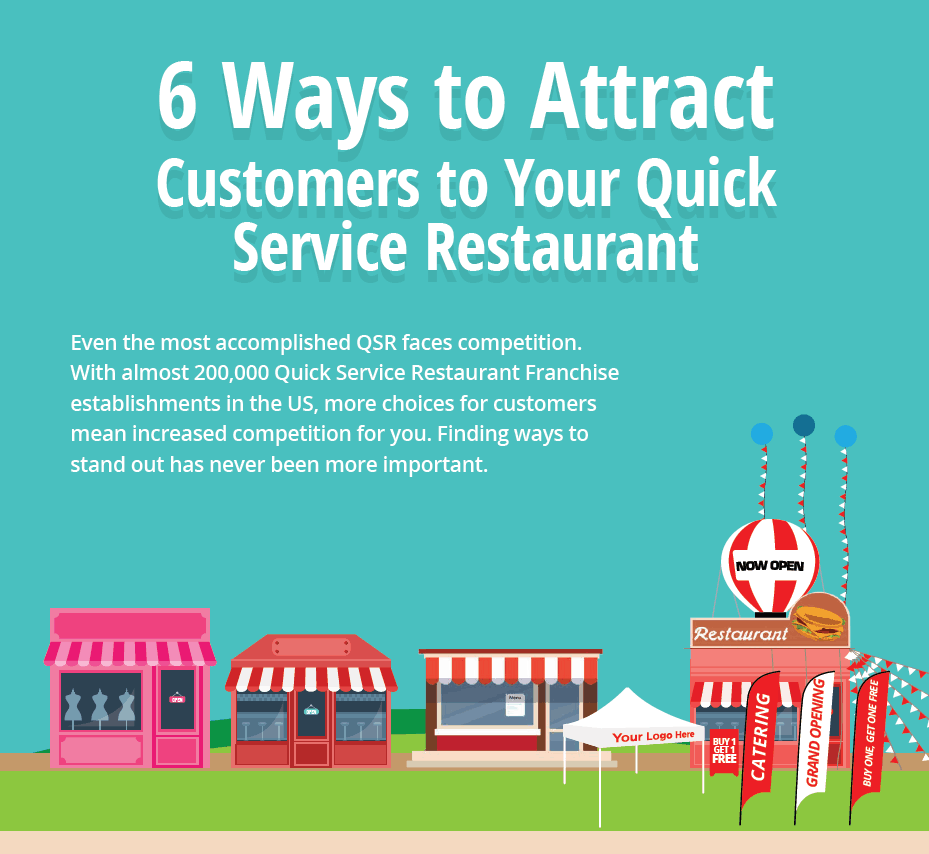 [Infographic] 6 Ways to Attract Customers to Your Quick Service Restaurant
Thursday, September 21st, 2017
Getting your location noticed these days is hard. From distracted drivers to fierce competition, attracting the attention of your target audience requires you to be noticeable. How do you do that with 10 other QSR's on your street all vying for the same thing? You do it by thinking outside of the box, doing something unusual and attention grabbing. Want to see more useful tips and fun stories about inflatables? Sign up for our newsletter list!
Be Seen at a Price You can be Happy About with Custom Tents
Thursday, April 6th, 2017
How many store fronts are there along your street? Probably dozens. Dozens of competitors, all trying their best to attract attention and get customers in their front door. Fortunately for you, you have a secret weapon that will attract attention to your location and boost your sales quicker than your competitors can post an update on Twitter. Custom Tents for your next event (or not) A custom tent by Air Ad Promotions gets people buzzing and entices everyone to stop in and see what you have going on. (And here's little trick – you don't actually have to have anything going on to use them!) That's right – tents can be used as a 'just because' item…. Just because you are having a sale on some inventory items that need to go or just because you have a special on a sandwich and just because you want to get customers in to your location. 'Just because' is reason enough! Any time of year – for all promotions Spring, summer, winter or fall, anytime is a good time for a custom tent. The tent frame from Air Ad Promotions is a durable, pop-up style that will withstand wind, sun and rain. […]
5 Ways to Put your Year End Marketing Budget to Good Use
Friday, October 28th, 2016
As the year draws to an end, many marketing departments and marketers in particular, are feeling the year end crunch. Marketing budgets are scrutinized and plans are reviewed for the coming year. While saving money is always a good thing, not capitalizing on your full budget may mean losing it for the coming year.
Top 4 Advertising Flag Messages for a New Store Opening
Tuesday, September 20th, 2016
When you're opening a new store or new location, just getting the interior of the store ready for business is an all-consuming task. And while the interior is a critical component of a good first impression, the exterior is what customers notice first. It's your brand's first opportunity to really grab attention and get customers to make a right hand turn into your parking lot. And one of the most powerful ways to do that is with advertising flags.
12 Grass Roots Ideas to Skyrocket your Local Store Marketing Efforts
Tuesday, June 28th, 2016
Are you looking for innovative ways to establish a grass roots connection between your business and your local neighborhood? Here are a few tips on how to boost your local store marketing: 1.Calendars and pens for customers One of the best ways to spread word about your business is by giving away free items. In particular, freebies such as pens and calendars are widely used and often prominently exposed by customers in their homes and offices, making them a great grass roots idea for marketing. Just ask Huntington Bank about their pen marketing. 2.Loyalty program A great way to infiltrate a local market and compete with more recognized brands with a national presence is by establishing a loyalty program. The type of program depends on your business, but it could range from being as simple as a stampable paper card to a plastic card allowing the customer to accumulate points. For more ideas about loyalty programs, take some tips from Menchies or Hungry Howie's. 3.Advertising flags Sometimes establishing a presence in your local market requires making a physical mark. When a local bakery wanted to make a splash with their grand opening, a row of advertising flags was just the […]
10 Ways to Boost Unit Sales in Your Quick Service Restaurant
Wednesday, May 18th, 2016
You need more customers right? More foot traffic and more paying customers walking in the front door? Well, it's time to get back to the basics. Fortunately, in order to boost unit sales, you don't need on coupons that never even get opened or social media that may or may not actually get people in the door. There are some tried and true methods to get in front of your most highly targeted customers without breaking your budget.