Category: Advertising Tips
7 Creative Ideas for Marketing Restaurant Delivery
Thursday, April 26th, 2018
It's no surprise that consumers are looking for easier and more convenient ways of enjoying their meals. While carryout was once a wave of the future, delivery is one of the fastest growing segments of the industry. Consumers want good food and they want it at their convenience. But the competition for restaurant delivery opens a whole new niche to be clamoring for attention in. The question is not 'is delivery a good idea?' but moreso, 'how can we stand out from the competition and get creative with our restaurant delivery marketing?' Fortunately, we have some creative ideas that will get your service noticed and get more customers ordering from you! Ideas for Marketing Restaurant Delivery Adversail Flags The benefit with advertising flags is that they are right at eye level of the people passing by your location. They are truly 'can't miss' advertising. The call to action is clear and they get people to make a right hand turn into your location. Sidewalk Signs For locations in the path of a walkable area, a sidewalk sign is a must. Positioned right outside your front door, they tell customers that your location offers delivery so they can have a night […]
How Online and Offline Advertising Can Work Together
Wednesday, February 28th, 2018
Modern consumers have hundreds, if not thousands of marketing messages coming at them every day. A few they might actually look at, even fewer might be engaged with, but the majority of them will fall to the wayside. Not seen and definitely not heard. As an advertising and marketing agency that specializes in on-site, attention grabbing advertising, we are challenged to help our clients come up with the right message that grabs attention at the right time. But discovering when that right time is, is part of the challenge of getting online and offline advertising to work together. This is where we spend a lot of our time and where you can benefit from it – we get to know our customer's customers. Call it research, profiling or ideal customer descriptions, but this is how customers make their journey to a purchase. And it's the start of how online and offline advertising can work together. Two Customer Journey's, Same Outcome Let's look at two customers… we'll call them Customer A and Customer B. Customer A is sitting in their office and they noticed it's 5 minutes before the lunch hour strikes. They hop onto Facebook to browse through the news […]
Advertising Examples to Get Your Location Ready for Spring
Tuesday, January 16th, 2018
Spring is coming fast, so it's time to get your location ready for Spring shopping season. From retail to restaurants, we've got the stuff you need to attract attention for your location. Advertising Flags Spring means planting, working out and cleaning up. With advertising flags, your brand tells the story of what is at the top of your customers minds… Banners If there's one thing your location needs for Spring, it's a new banner message. Don't let the same old campaign run again – spruce it up to attract new customers. Changing up your advertising message reinforces your brand and attracts customers to your location who might have become 'ad blinded' before. -Marty Buckholt Advertising Balloons For big time recognition, use an advertising balloon with branded colors and a personalized message. That way your customers can't miss it. Tube Dancers Wacky and always moving, tube dancers are an essential element for getting a laugh out of your customers. You'll lose track of how many customers pose for pictures with it! Sidewalk Signs These signs are larger and more durable than a regular yard sign and do an amazing job at attracting attention. Made of plastic or metal, sidewalk signs […]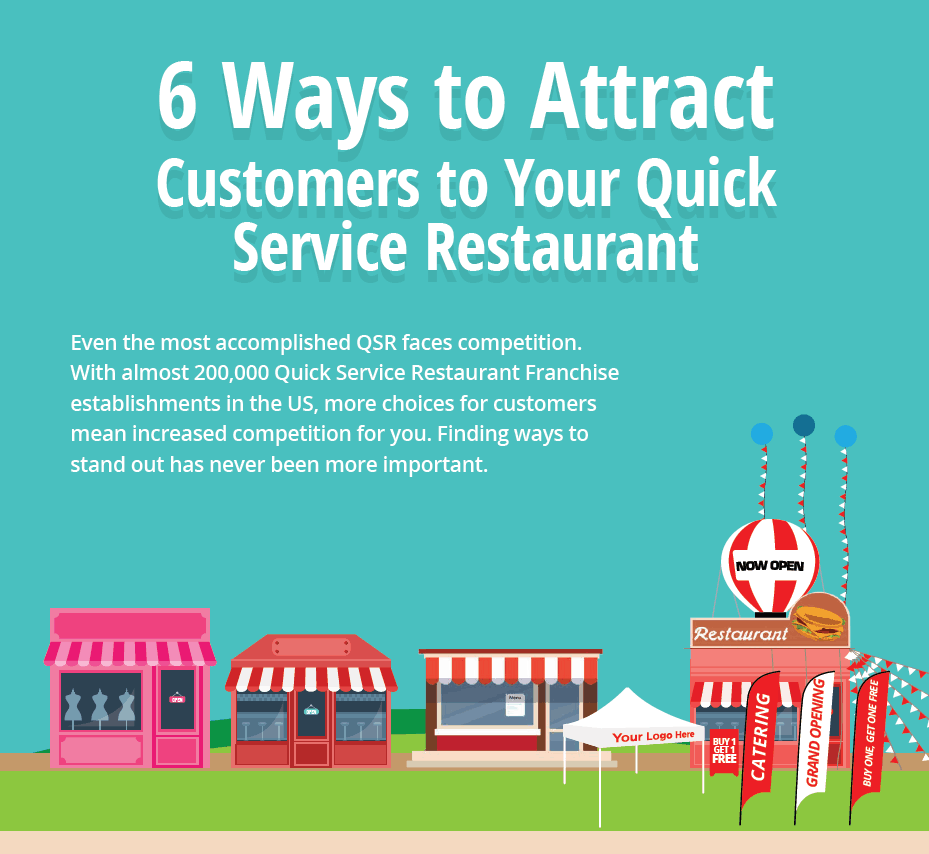 [Infographic] 6 Ways to Attract Customers to Your Quick Service Restaurant
Thursday, September 21st, 2017
Getting your location noticed these days is hard. From distracted drivers to fierce competition, attracting the attention of your target audience requires you to be noticeable. How do you do that with 10 other QSR's on your street all vying for the same thing? You do it by thinking outside of the box, doing something unusual and attention grabbing. Want to see more useful tips and fun stories about inflatables? Sign up for our newsletter list!
Be Seen at a Price You can be Happy About with Custom Tents
Thursday, April 6th, 2017
How many store fronts are there along your street? Probably dozens. Dozens of competitors, all trying their best to attract attention and get customers in their front door. Fortunately for you, you have a secret weapon that will attract attention to your location and boost your sales quicker than your competitors can post an update on Twitter. Custom Tents for your next event (or not) A custom tent by Air Ad Promotions gets people buzzing and entices everyone to stop in and see what you have going on. (And here's little trick – you don't actually have to have anything going on to use them!) That's right – tents can be used as a 'just because' item…. Just because you are having a sale on some inventory items that need to go or just because you have a special on a sandwich and just because you want to get customers in to your location. 'Just because' is reason enough! Any time of year – for all promotions Spring, summer, winter or fall, anytime is a good time for a custom tent. The tent frame from Air Ad Promotions is a durable, pop-up style that will withstand wind, sun and rain. […]
5 Ways to Put your Year End Marketing Budget to Good Use
Friday, October 28th, 2016
As the year draws to an end, many marketing departments and marketers in particular, are feeling the year end crunch. Marketing budgets are scrutinized and plans are reviewed for the coming year. While saving money is always a good thing, not capitalizing on your full budget may mean losing it for the coming year.