Category: News & Updates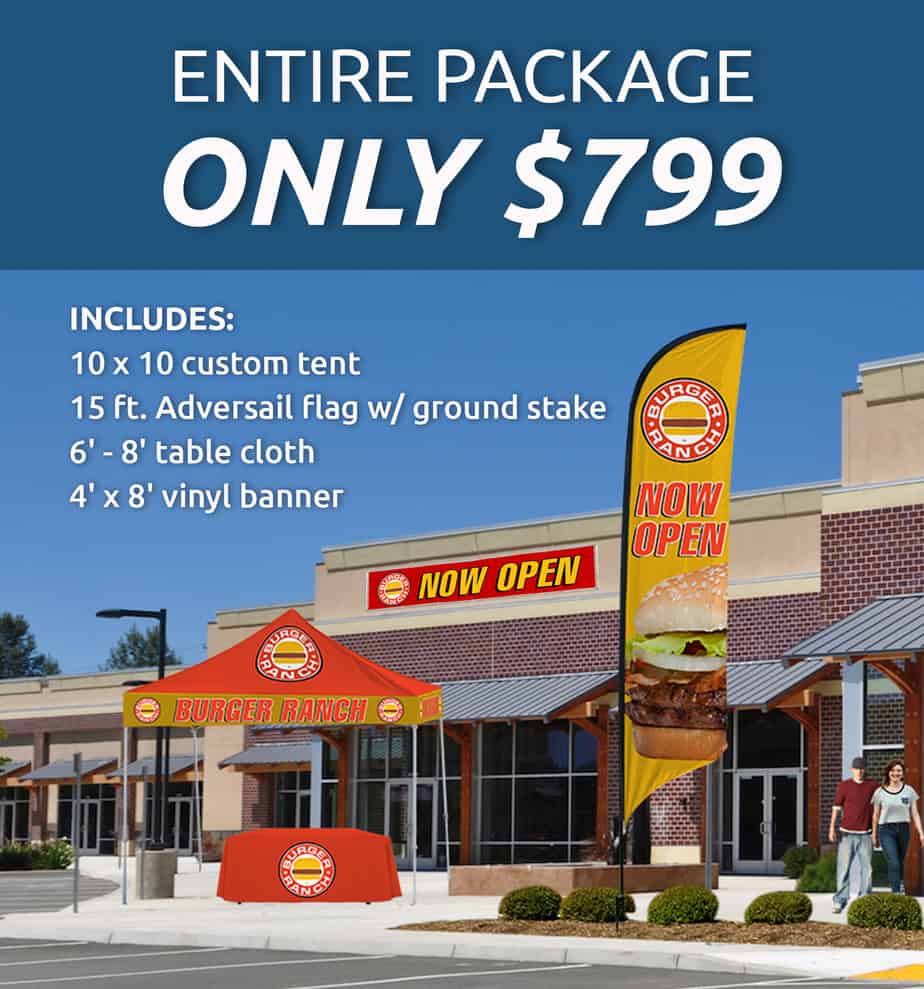 Summer Time Package Special from Air Ad Promotions
Friday, May 18th, 2018
When you think of summer marketing, your mind may jump immediately to the tactics you did last year and getting it revved up again for this year. Instead of executing with the same strategy, try something fresh and new this summer with a summer time package from Air Ad Promotions. A Summer time package deal with all the essentials is a great way to see immediate return on investment without chipping into your already tight budget. Plus, you'll make your brand more visible, get more customers in the door and boost sales all at the same time! Included in the Summer Time Package are: 10' x 10' Custom Tent Tents are instant attention grabbers. The minute one goes up, it looks like a party. Show your customers that your location is the one to be at. Our tent is customizable to your brand's colors and whatever message you'd like added on the sides. It comes with a carrying bag, so it's easy to store. For more information about our custom tents, visit: Custom Tents. 15' Custom Adversail Advertising Flag with Ground Stake An Adversail flag is the on-site marketing essential. When potential customers are passing by your location, do they […]
How Retailers Can Get Customers in the Door in 2018
Wednesday, October 18th, 2017
If you're responsible for marketing a local, regional or national retail chain, you probably spend a good amount of time optimizing your marketing efforts. Between deciding where to spend your marketing dollars and tracking ROI, executing a marketing strategy is a tight combination of growth and effectiveness mixed together. At Air Ad Promotions, we spend a large part of our time suggesting ways to enhance our client's marketing efforts in the most cost effective manner possible. We do this for a couple reasons… one, promotions that are cost effective save marketing budget dollars. And two, marketing campaigns that are enhanced with decision point marketing products see results immediately. What are the Makings of a Successful Retail Marketing Campaign? The success or failure of a marketing campaign can be measured in many ways, but for our clients, success rests in sales. A successful retail marketing campaign brings more traffic and more sales to the store. As an example, we'll look at two companies that could benefit from a marketing strategy that is all-inclusive. In other words, the marketing strategy optimizes every touch point that a customer would have with the company. Rent-A-Center Rent-A-Center is in a perfect position to catapult […]
How to Increase Customer Loyalty (and Engagement) using Decision Point Marketing
Monday, May 15th, 2017
Increasing customer loyalty. As simple as it sounds, it is one of the biggest ways to increase profits and grow sales. For marketers, it translates to 'a sure fire way to stay on the radar of a target market already overloaded with advertising.' And if that didn't get you excited, did you know that repeat customers spend on average, 67% more than new customers? And existing customers are 50% more likely to try new products. 50%! That means that 1 in every 2 of the repeat customers that make the decision to return to your business will buy your new product offering.
[Video] Watch how Inflatable Advertising is Changing Marketing One Promotion at a Time
Tuesday, February 9th, 2016
There's a marketing stat that states that it takes anywhere between 7 to 13 touches before a potential customer becomes a customer. So most marketers use a combination of tactics to reach their target audience. Written articles, videos, online advertising and direct mail are just a few. The more variety, the better the chance of getting their attention.
7 Predictions for the Future of Physical, On-Site Advertising for 2016
Wednesday, November 11th, 2015
If I told you I had a crystal ball and could predict what the future holds, what would your first reaction be? 'Yeah right, keep dreaming' or maybe 'I'm all ears'. Back about 15 years ago, there was this influx of 'predicting' type articles on the web.
If you Haven't Joined the Email Marketing Push, You will After Seeing These 19 Stats
Tuesday, November 3rd, 2015
It's no secret that email marketing is a cornerstone for businesses in both B2B and B2C industries. The nineteen facts below might leave you wondering whether you've put enough emphasis on this sales tool in 2015, or convince you to re-evaluate its use within your marketing strategy for 2016.