Sidewalk Signs
Create the ultimate in custom advertisements with sidewalk signs! Sidewalk signs, also known as sandwich board signs, A-frame signs and Spring signs, are excellent ways of greeting your customers with a warm welcome AND promoting your special offer to them. A sidewalk sign positioned out on the walkway, the pavement or near the curb of your location has the potential of reaching all the customers who would otherwise walk right by. They can't help but read it! Plus, they are excellent ways of emphasizing what makes your store unique compared to your competitors. Do you offer a lower price, better selection, or free trials? An outdoor display board targets your advertisement to customers at your doorstep — and invites them inside!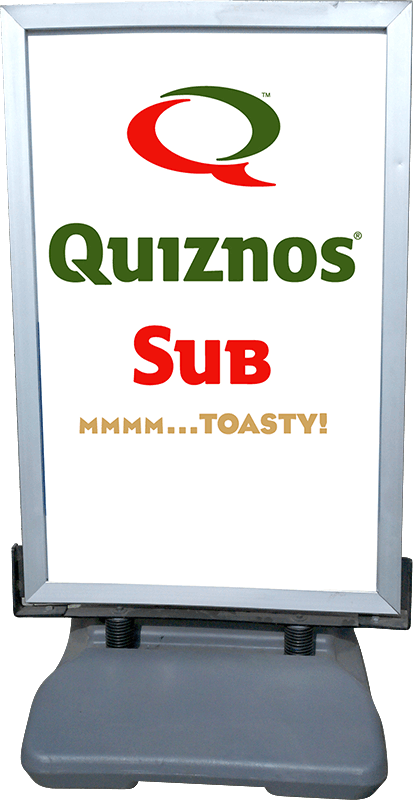 Don't Miss out on Priceless Advertising Space Right in Front of your Business
Show customers what you have to offer. Customers don't always just walk into a business to see what's there. Like most people, your potential customers get excited about sales and special offers, but also don't want to feel like they're being 'sold'. So, they take the path of least resistance and walk past your storefront rather than walk in. Sidewalk signs are the answer to grabbing their attention because you let the graphics do the talking about specials, sales or promotions.
Why Use Sidewalk Signs?
Greets customers
Welcome them into your store, describe your specials and increase your bottom line. Sidewalk signs get your message out to your best customers, the ones standing at your doorstep!
Durable
Because sidewalk signs are rust and splinter proof, they are durable ways of attracting your potential customers to your door. From hot sun to cold ice, A-frame, Bandit and weighted base signs will be marketing for you under the harshest conditions.
Budget friendly
They may be custom made, but they are an extremely cost effective solution for advertising your business. Sidewalk signs are often purchased as a stand-alone product, but can also accompany a larger, grand opening package. Whatever fits your needs.
Add any message
Get virtually anything printed on your sidewalk sign! Your logo, a special offer or promotion, your store hours, anything you want to promote or advertise… we can design it for you.
Long Lasting
All Air Ad Promotions A-frame, Spring and Bandit sidewalk signs are made of heavy duty material, so they will last through many advertising promotions. Depending on how it's stored, your sign could last up to 5 years. Your message gets instant and repeated exposure for years to come!