Why Advertising Balloons Will Attract the Attention of 85% of Your Target Market
Jan 26th
Advertising Tips
How many times have you been driving down the road and witnessed something completely out of the ordinary that you just had to look? That's the idea with advertising balloons.
They take the ordinary business storefronts – restaurants, strip center stores, gas stations and boutiques – and make them POP. And guess what? The majority of your target market drives past your location every single day. An advertising balloon, with your custom message, creates an eye catching spectacle that just can't be missed.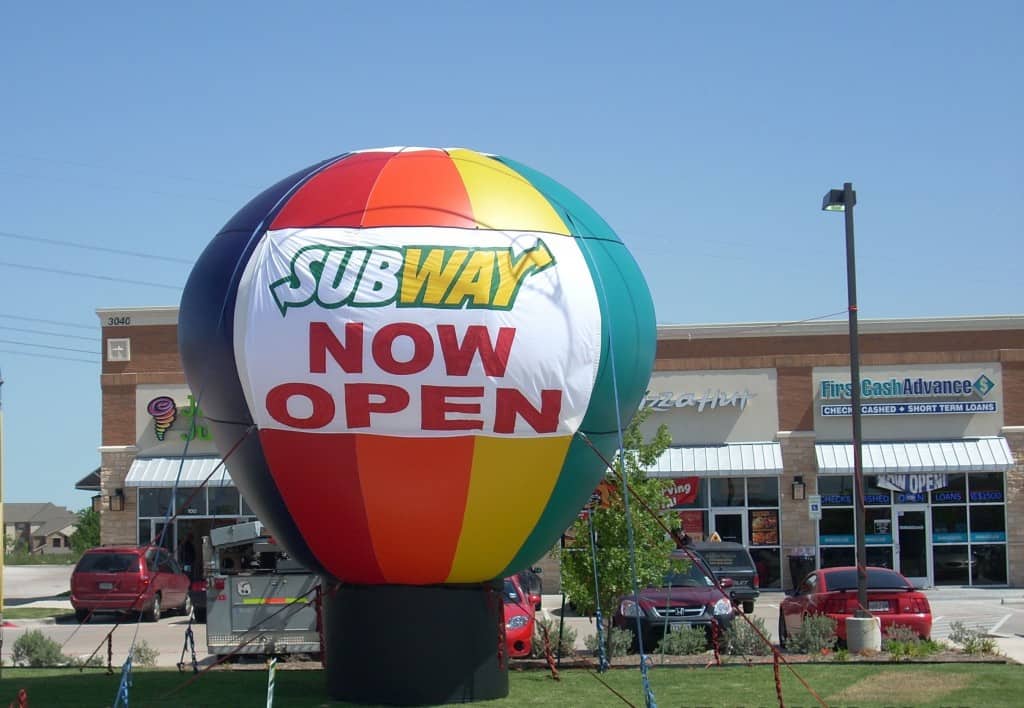 Advertising balloons are actually one of the most powerful weapons in your advertising toolbox. On top of that, they can be used for an endless variety of events and promotions. Here are just a few ideas of why advertising balloons are perfect for your location…
They can be used for any event
One of the greatest aspects of outdoor inflatable advertising is the fact that it can be used for just about any event or promotion. Grand openings are always a great time to have a balloon installed and add a Grand Opening banner. But a full scale, nationwide promotion is also a great opportunity to take your message to the people passing by your location every day – your captive audience. A 'Free Breakfast' promotion or a 'Buy One, Get One Free' campaign that covers an entire region are examples of how an advertising balloon can be tied in to your marketing mix.
Advertising balloons can be installed anywhere
Practically any surface can accommodate an inflatable balloon. Although many of them are installed on the rooftops, sometimes a ground installation is more appropriate for your event. Grass, concrete or any type of hard surface is usually a great spot for a balloon. Even a parking garage makes for a high visibility area!
Although we are based in the Dallas / Fort Worth area, Air Ad Promotions installs balloons all over the country, from New York to California.
They're fully customizable
One of the great things about advertising balloons is that they can be customized from top to bottom. Need a banner with a unique message on it? Or how about a balloon with alternating blue and white stripes? Consider it done. Take your location's theme and colors to new heights with a giant balloon showing off your message to everyone on the street.
They attract attention
There's a reason why they're known as attention grabbers – at 20 – 24 ft. in height, these huge balloons are the equivalent of saying "look at me" without actually standing there yourself. With their huge banners and colorful balloons, drivers, walkers and anyone passing by will do a double take to see what your location has going on. Free coffee anyone??
Cost effective is their middle name
Advertising balloons aren't charged per impression or even per day. Available as a rental or as a purchase option, you get one of the best advertising tools at one of the lowest costs. Plus, where else can you get something working for you for 24 hours a day that doesn't need a break? Once you have a balloon up, it starts to work for you immediately. From the time you have it up, till the time you remove it, your balloon will be bringing people in the front door of your location.
Attracting customers in to your location when there are 10 other places, on your same street, all trying to do the same thing, is a challenge of any business, large or small. That's why when we say 'get you noticed', we mean it. 85% of your target market is right there, driving past your location every day, and most of them have tunnel vision. An advertising balloon steps out of the mold and generates awareness like nothing else can.
For more information about advertising balloons for your next event, give us a call at (855) MY-AIRAD or contact us here.
Get the On-Site Advertising Monthly Newsletter
Download our White Paper to find out how you can be the hero!