Event Sponsorship Ideas: 7 Creative Ways to Attract Sponsors
Jun 19th
Event Tips
Looking for some creative event sponsorship ideas? You've come to the right place! We've got loads of ideas and epic ways to show your sponsors some love!
Event sponsorship in the age of competition means going the extra mile and offering your sponsors something more, something that will attract their attention and get them to sign on the dotted line.
How do you attract sponsors for an event?
Sponsorships should be as beneficial for the sponsor as they are for the event – offering a win–win for them to want to do it again and for you to feel comfortable approaching them again. Because, let's face it, when a sponsor doesn't get the recognition they feel they should have gotten, you don't stand much of a chance to secure them as a sponsor in the future.
Sweetening the pot for a potential sponsor may be as simple as offering them more exposure on your owned media channels or it may be going out of the box with creative solutions…
Here are 7 creative event sponsorship ideas:
Offer them their own branded advertising flag
Imagine the reaction you'd get when you offer your sponsor their brand's logo on a custom Adversail advertising flag? These flags stand 15' in height and can be positioned anywhere around your event. So not only do they get their name on a flag, but they get unique exposure during your event.
Highlight their company on a giant advertising balloon
This is a really BIG way to get creative! Advertising balloons like this one stand 20' – 23' feet in height. Positioning one of these balloons at your event is a huge way to attract attention to the event itself. Partnering that with a shout-out to your sponsors and you have a real win-win-win.
Banners are always a good option
Banners are the event essential that can really wow a sponsor. These can be any size, but sponsors will be impressed if one of the perks for sponsoring your event is a dedicated banner. Customize it with just their brand or add multiple brands on one banner. Either way, they can be placed at the entrance and throughout the event.
Branded sidewalk signs generate attention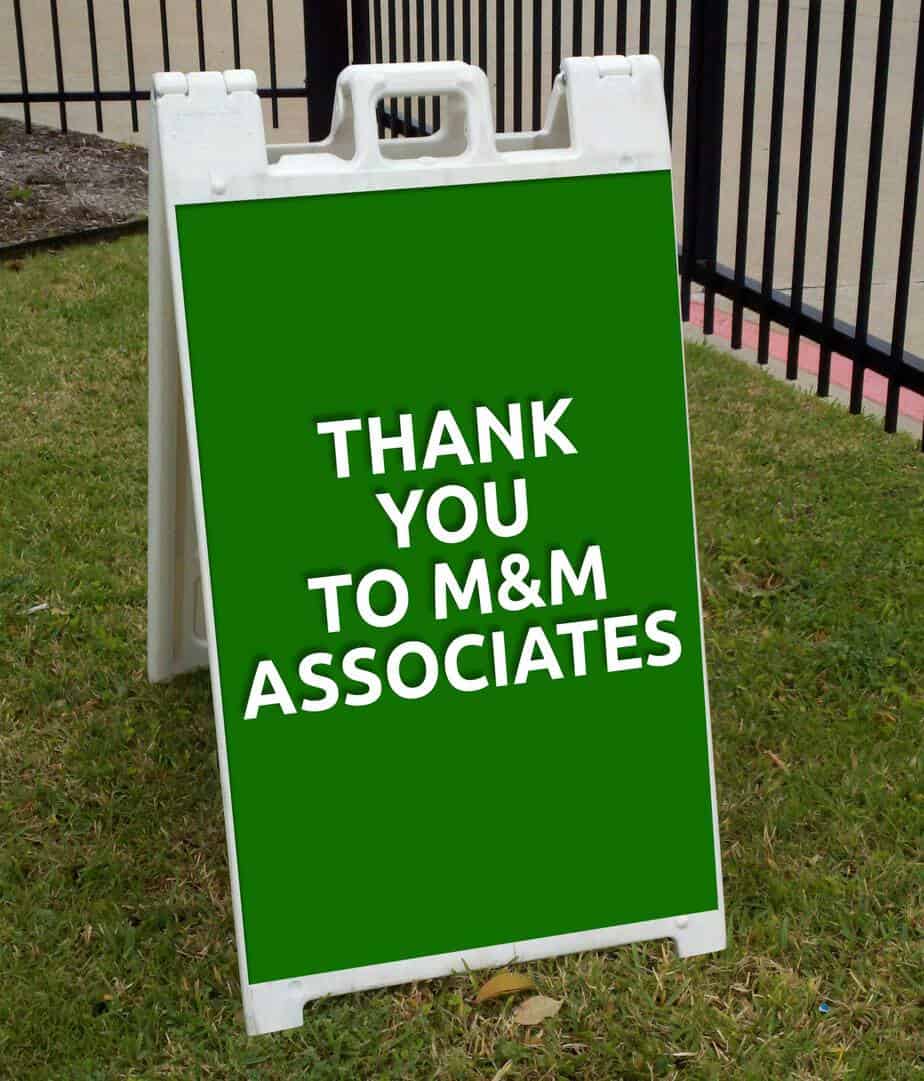 Event goers may be walking around, checking out everything going on, but they won't miss the sidewalk sign standing right in front of them! These signs can be branded to showcase just one company or add a few on each insert. And once you have the sign frame, the inserts can be easily changed out for next years events.
Put their brand on a spinner sign
All those volunteers you have to work the event? Have them carry spinner signs around to promote your sponsors! Spinner signs are durable coroplast signs that are lightweight so they're easy to hold onto.
Bandit signs for the win
These super versatile signs can be positioned just about anywhere and offer your sponsors another opportunity for exposure. They're also made of coroplast, which makes them incredibly cost effective and durable. Put a sponsor logo on them and you have a nice value-add to a sponsor package.
Tents aren't just for shade
Even though tents provide so much valuable shade during events, they're also guaranteed crowd attractors. How about impressing your sponsors with expressing your thanks on tents positioned throughout your event. You could even offer a dedicated area for each sponsor by hanging their banner up.
Exposure and visibility are big things to your sponsors. They can never get enough of either and any time you can offer more, you have an impressive package.
Looking for more ideas? Give us a call or fill out a request form and we're happy to help you land MORE sponsors!
Get the On-Site Advertising Monthly Newsletter
Download our White Paper to find out how you can be the hero!